Joseph Evans, Botanist and Herbal Doctor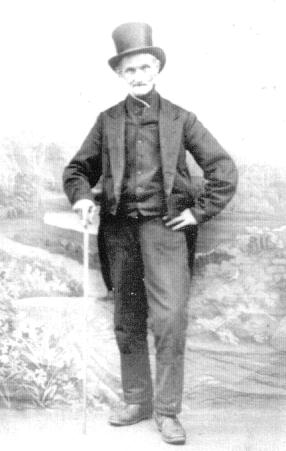 Joseph Evans (pictured here) was born in 1803, and was brought up by his father William, also a well-known herbalist and botanist. Joseph became a handloom weaver, also like his father, and on his marriage in 1827 he went to live in Boothstown.
Joseph Evans's cottage (pictured right) was situated near the junction of modern-day Simpson Road (not built at that time) and Leigh Road. It used to be numbered 512 Boothstown Lane, on what is now Leigh Road. The cottage was single storey, had a thatched roof, and one door on the north side. It was surrounded by a garden containing ferns, fossils and over 300 plants, many of which were useful in medicine: Aconite, Hellebore, Gentiana, Soapwort, Ground Elder, Wintergreen and many others.
He became well known as a herbal doctor, and people came from places such as Runcorn, Bolton and Prestwich for help. He gave up weaving and became a full-time herbalist. Local people called him Doctor Evans, though he had no formal qualifications. He often walked 30 or 40 miles a day visiting patients, and on Sundays there was usually a queue outside his door from 6am to 4pm. He believed 'nature provided remedies for nature's ills' and did not trust what he called 'chemical medicines'.
Joseph Evans was also a famous botanist and attended many meetings of local botanical societies: Eccles (founded in the 1770s), Boothstown (c.1790), Astley (1805), Atherton (1810), Tyldesley (1812), and Worsley (1840).
Joseph and his wife Jane (pictured left) emigrated to America in about 1845, selling all their possessions, and giving up the lease on their cottage. They spent only three days in America and returned on the same ship. Local people were so fond of him they sold back all his goods at cost price, and the people who had moved into his cottage let Joseph and his wife return.
He used to visit many areas collecting plants. Winwick Quarry was a favourite place, as was Mosley Common. In 1852 he visited the Lake District, where he talked to local shepherds about herbal remedies.
In 1860, Joseph founded the Boothstown Botanical Society at his cottage, with 20 members. They met once a month on Sunday evenings to identify the plants they had found, and to listen to lectures on botany. In 1863 the society had 103 books in its library, two microscopes and two botanical presses. At the Christmas annual meeting they ate black pudding and oat cakes, and drank ale. Around 1864 the society moved to the Queen Anne Inn (later known as the Queen's Arms) on Chaddock Lane.
Joseph in 1871 was described as 'of energetic frame, stooping slightly and with head pensively on one side. His face is clean shaven, a healthy tint of red marks on his cheeks, which lack the packing of a full set of teeth'. His eyes were described as 'small and penetrating'. He wore a top hat, indoors as well as out, a frock coat and moleskin trousers, a cravat round his neck, and boots on his feet.
On 23rd June 1874, Joseph died, aged 70 years and eleven months. He had always been healthy and was said to have died from 'simple, natural decay'. His last words were 'Lord forgive me. Lord remember me.' Hundreds of people came to see him in his coffin and pay their last respects. The funeral took place at 5pm on Saturday 27th June 1874. Joseph's coffin was carried from his cottage to St. Mark's church, Worsley, followed by a procession including 50 botanists, 170 children, and 1,000 local people.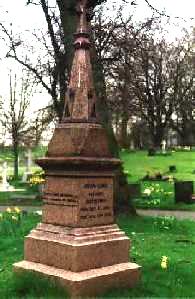 After the service a meeting was held in the Cross Field near the church, and it was decided to erect a monument in his honour, to be paid for by public subscription. Both rich and poor contributed. The monument, a tall red granite pillar on a base, was erected outside the west door of St. Mark's on 12th June 1875, where it still stands. On the monument are inscribed the words of Joseph Evans: "Plants I love and cherish. In them the wisdom and goodness of the Creator are manifest."
The Boothstown Botanical Society declined as horticulture became more popular than botany, and it stopped meeting with the outbreak of war in 1914. It is interesting to reflect that members of nineteenth century botanical societies had often never been to school and worked a full six days of the week, but they were still prepared to spend the seventh day collecting and studying plants. There was even controversy when the local vicar, the Earl of Mulgrave, a relative of the Ellesmere family criticised botanical societies for collecting plants on Sunday mornings instead of going to church, then meeting in public houses to study plants whilst 'smoking tobacco and drinking spirits'. It was quite common for about two thousand people to attend a joint meeting of local societies, and special trains were often run to bring people to meetings. There are now no local botanical societies, but horticultural groups still flourish.
Footnote

The 1851 census records Joseph Evans at 'Booths Town'. Joseph was aged 47 and was described as a silk weaver. He was born in Tyldesley. With him in 1851 were his wife, Jane Evans (aged 38 and born in the Bedford district of Leigh) and their unmarried daughter Ellen Evans, 24 who was a silk weaver, born Worsley.
The 1861 census records Joseph Evans at Boothstown. Joseph was aged 57 and was described as a 'botanical instructor'. With him in 1861 was his wife, Jane Evans, aged 48.
The 1871 census records Joseph Evans at 512 Boothstown Lane – this was before the modern street names and house numbers were adopted in Boothstown. Joseph was aged 67 and was described as a 'botanical instructor'. With him in 1871 was his wife, Jane Evans, aged 58. Again, no occupation is recorded for her.
As described above, Joseph Evans died in 1874, and at the time of the 1881 census his widow Jane is aged 68 and is described as 'independent', that is she has no occupation recorded, but is living off her own means. Jane's address is now given as 34 Chaddock Road – this will be the same cottage as before, but the name Chaddock Road has replaced the former, and more general, Boothstown Lane. The house number shows that the cottage was about five doors away from the Greyhound Inn (which was number 44) in the direction of what is now the junction with Simpson Road. With Jane Evans in 1881 was a boarder, Elizabeth Barry (17), a cotton reeler who was born in Boothstown.
In 1891, Jane Evans still lived at 34 Chaddock Road, and is recorded as aged 79. But at this time she is living with the family of James and Martha Duncan. James (35, born in Scotland) works in a cotton mill, Martha is 36 (born in Boothstown), and they have four daughters: Jane (10), Agnes (6), Emma (4) and Lilly (1). Jane Evans is described as the 'mother' of the head of household, so it is likely that she is the mother of Martha Duncan. Ten years earlier, in 1881, James and Martha Duncan lived at 14 Chaddock Road. They had a son William, aged 1, and daughter Jane, aged 3. In 1901 the family of James and Martha Duncan was still at 34 Leigh Road (as it was now called), and they had another daughter, Martha, aged 8.
Jane Evans probably died in the January-March quarter of 1895, aged 82.
Acknowledgements
The story of Joseph Evans was researched and written by John Aldred, copyright © 1994. The footnote of census information was researched and written by Tony Smith who compiled this web page. Black and white photographs are from the collection of John Aldred. The photograph of Joseph Evans's monument is by Tony Smith. For a contemporary description of Joseph Evans see the web page that contains the description of Boothstown by the Victorian ramblers.