Around the modern Greyhound pub was the former Greyhound Farm. It was run by the Crompton family: by John Crompton (aged 61) in 1851 who was a publican and farmer of 6 acres, and by Robert and Fanny Crompton in 1861, when Fanny was recorded as the publican and farmer of 14 acres. It is likely that Fanny was the widow of John, and that Robert was their son. There is record of a farm at 44 Chaddock Road (now Leigh Road, Boothstown) in 1881, when a Mr. Andrews (aged 37) was recorded as farmer and innkeeper. It almost certain that this is the same as the Greyhound Farm because on the 1891 census Mary Andrew (a widow aged 46) was the publican of the Greyhound Inn at 44 Chaddock Road.
In 1901 the licensed victualler at the 'Greyhound Hotel' was John Marsh (aged 27) – the young man who had been a music student ten years earlier. His family (including his father, also John Marsh, aged 65 – the former publican of the Royal Oak) lived at the Greyhound with him.
The picture below shows the Greyhound pub in about 1910. The sign on the wall says that the pub has a bowling green and good stabling.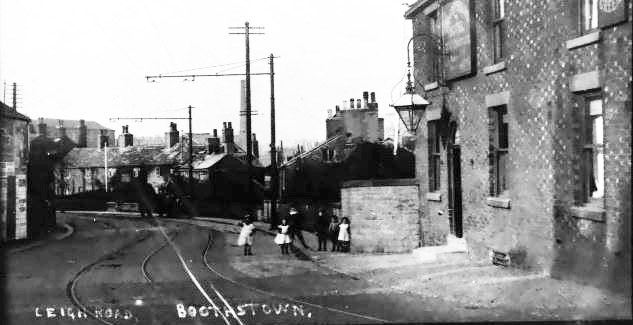 A plan to demolish and rebuild the Greyhound and Royal Oak was postponed because of the second world war, and never implemented. The Greyhound was refurbished in 2001, and the whitewash removed from its exterior walls (below).
In 2019, The Greyhound was bought by new owners and after a large investment and major refurbishment it reopened as The Coal and Cotton. The name was chosen to reflect the industries that helped the growth of the local area.
There's also a gin distillery on-site where the Boothstown Gin is made. The Boothstown Gin is inspired by the local 19th century botanist and herbalist Joseph Evans who used his concoctions, including a gin and strict instructions to 'drink and sing into the night in order to restore red cheeks and smiles', to help members of the community. 
(For a contemporary reference to the Greyhound from 1871 see: Victorian Ramblers)