Mrs. Whistler's Diary: Chaddock Hall, 1847
James Abbott McNeill Whistler (1834-1903) was an American painter who moved to Paris in 1855, then to England in 1859. He was influenced by oriental art and specialised in portraits and landscapes dominated by just one or two colours. One of his most famous works (shown below) is his Arrangement in Grey and Black: Portrait of the Painter's Mother (1871), which now hangs in Paris. The subject of the painting, Mrs. Anna McNeill Whistler, kept a diary while living in St. Petersburg (1843-1849), where her husband, Major George Washington Whistler, was supervising the construction of the St. Petersburg to Moscow railway. In the summer of 1847, Mrs. Whistler visited England, using Preston as her home, and travelling around Lancashire. The following is an extract from that diary, and describes the visit of Mrs. Whistler and her sons to Chaddock Hall, Boothstown.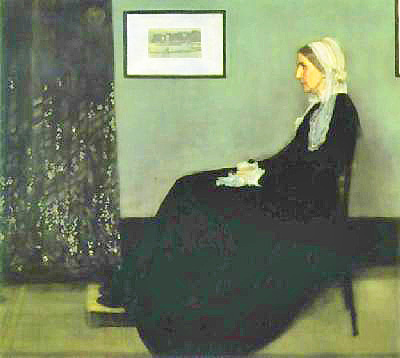 I should have sought a seaside retreat immediately, but an invitation to visit my friends at Chaddock Hall first induced me on Wednesday 14th inst to set out from Preston with my sister Alicia and boys by the 4 O'clock train. We reached Astley in an hour and found a cart awaiting our luggage and old Peter coming forward from the pony phaeton to meet us. But my adventurous boys must have surprised Miss Smith's steady old coach man for he was scarcely off his seat ere they occupied it and had reins and whip in hand. Even I, accustomed as I am to their sudden movements, was astounded, and as the pony's head was turned towards Chaddock I almost expected he would take them there without us. Old Peter laughed good humouredly, and restored order. He is a great contrast to George at Preston certainly, for he allowed the young mad caps to drive by turns, notwithstanding their having attempted it before asking permission.
Cordial was the welcome awaiting our arrival at the old hall from Mr. Robert Smith, my dear friend Anne, and her two sweet nieces and protegies, Mary and Bessie, whom I had not seen since they were little girls, for 17 years had elapsed since my last visit to Chaddock. In that time they had lost their parents, and they reward Aunt Anne for every sacrifice she has made to devote herself to them by contributing as they do every hour now to her comfort. Bessie, the youngest, looks too frail to endure the storms of an earthly pilgrimage, those she has known have depressed her young buoyancy of spirit, and she is habitually pensive. I saw many proofs of her deep piety during the week I was at Chaddock, and believe Mary to be equally pious, though her firmer health yields her a stock of cheerfulness. She would be in her sphere as a clergyman's wife in some village, for these dear girls shrink from the bustle of a town life. They go hand in hand as Aunt Anne's housekeepers alternately, or in works of charity. Their recreations are reading aloud to her, or to each other, over embroidery, or Bessie's wax flower making. But I observed they began every day directly after breakfast by the study of God's word, they regularly retired to their own room together to read from the same bible, and it was the last subject with the trio before retiring at night. If I had lost my full appreciation of the value of time in a four years' absence from a land of gospel light, I have been brought to reflection by the example of these conscientious young disciples.
How very often I wished dear Debo had been with us that week at Chaddock. The country around it tho so entirely unlike Kirby Lonsdale was as charming to me. We were favoured in a continuance of fine, bright weather for daily walks or drives. It is a fine farming district, and a plain so very extensive would perhaps have wanted for variety but for the shades of green in the newly mown fields, contrasting with waving wheat, barley and oats, with their rich hawthorn hedges separating them, and the quantity of woodland interspersed. The trees are many of them very large, and with the help of fancy I could imagine the ocean in the distance, for the tallest looked like a fleet in the distance. Often in our rambles we would see partridges or rabbits or pheasants, for the Earl of Ellesmere has much game on his estate, and all the neighbourhood around Chaddock Hall is his property. Himself and his Countess are deservedly beloved for they are promoters of improvement in the condition of the poor all around here. He has built a new castle at Worsley since I first knew the neighbourhood, and the prettiest new church [St. Mark's] within walking distance of it I ever examined. It was at evening service there my boys discovered the preacher, by his earnestness and idiom, to be Irish, but Mary Smith had interested me so much in the rightful and youthful incumbent [not St. Vincent Beechey, who was the first vicar to have the living (in 1850), but one of the four temporary clerics between 1846 and 1850] that I cannot help wishing his health may be restored, and that the temporary pastor may preach the word in some other parish. It is a nephew of Mrs. Sherwood who was first appointed to the Earl of Ellesmere's chapel, but premonitory symptoms of consumption have driven him to the south of Europe, for this year she engaged the heart of an orphan who was in her voyage from India bereft of all her natural protectors by shipwreck. Her father's wealth was in the English funds. May she have the open hand of charity to secure her a heavenly interest, from all I learn of the ladies of Ellesmere she will have good examples.
We had been within the pretty chapel during one of our strolls in the week, and I had observed a printed notice in each pew, requesting all the congregation to unite in the devotions, their responses and if possible singing the praises of God. And as we entered on Sunday evening, just after the service commenced, it seemed one burst of praise. The seats were all free, and all were filled. We had some of us driven in the pony phaeton, so Anne, my sister and I walked home with Mr. Robert, and Bessie took my boys in the carriage. I was not fatigued, tho' my boys had gone to their nest when we reached Chaddock, for Jemie had walked both morning and afternoon to the Ellesmere Chapel, one and a quarter miles distant, and I had desired they should wait to bid me goodnight after my experiment. The air is certainly better for me at Chaddock than here at the Ocean, but my boys enjoy the bathing, and I hope it may be for their good we came hither.
Acknowledgements
The extract from Mrs. Whistler's diary was supplied to Elizabeth Cook by Evelyn J. Harden, the editor of the diary. It was supplied to Tony Smith, who compiled this web page, by Mrs Else Mullineux.